Nylon Carpet Tile Installation for Building Corridors : Makati Project
There are many considerations before managers or officers in charge decide allocating a budget for whatever functional or ornamental elements they prefer to have in the workplace. Because today's times necessitate not only aesthetic benefits but also security and convenience, materials like carpets and blinds became a must. Specifically, for today's feature, the Makati installation of nylon carpets are on the spot.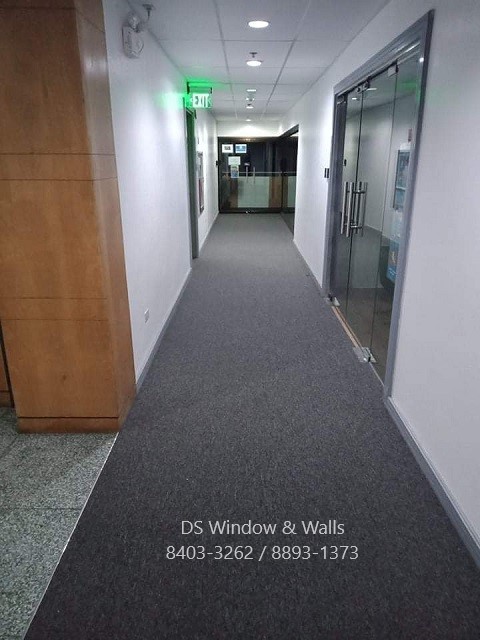 If a client aims for something long-lasting and heavy-duty, nylon carpets are more durable than the other types of its kind. These carpets often retain their shape longer and can last at least 15 years and more. Aside from that, nylon carpets are also resistant to stains and fading, making them appropriate for foot-traffic heavy areas such as hallways. Carpets for corridors are a good way to go to keep the area safe and clean because of its properties.
As convenient as it may seem, the installation of these carpet tiles also went through tedious work and process. In today's blog, we highlight these steps also to understand how such carpets came to be before they serve their purpose on work spaces. The following discussion will be about dismantling old carpet tiles, applying adhesive for the installation of new ones and the insertion of the nylon carpet tiles themselves.
Our Makati client had their carpet floor replaced with new carpet tiles for this case. The first step came to be stripping the corridor from the previous set of carpet tiles. This part also involves the cleaning and making sure that the ordered product is accurate with floor measurements.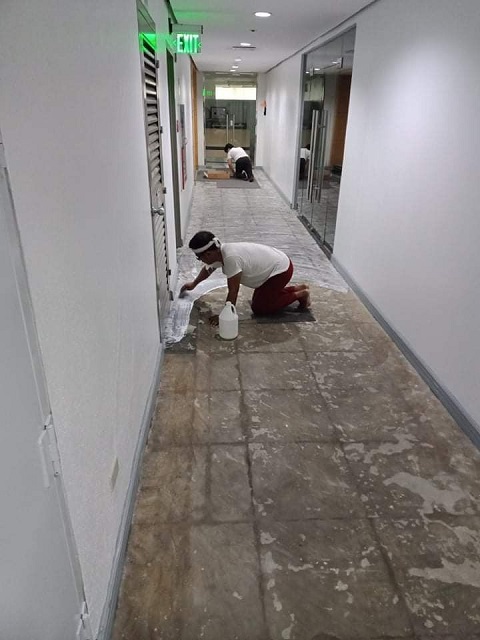 Almost immediately after that is applying adhesive to the target floor area so that the carpet tiles would fit and to make sure that they don't move easily from the foot traffic in the office. Carpets originally do not require adhesives but the use of carpet glues significantly enhances installation and makes sure that the same are intact and will properly serve its purpose.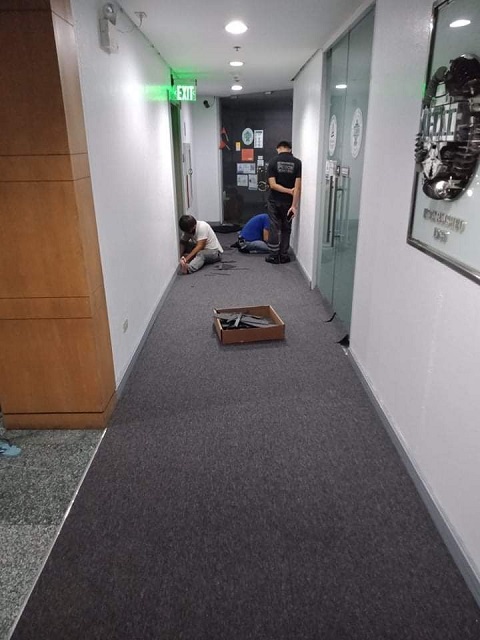 The last step of course is putting the carpet tile in place. As seen in the image above, the installed carpet was smooth and fits the corridor of Petron Mega Plaza effectively. The color of the carpet also matches the interior of the office which makes it aesthetically pleasing as well. Furthermore, the use of these carpet tiles can also enhance the bouncing of sounds in the area and ensure reduced slippage and minor accidents.
Carpet choices do not end there. There's a lot more to choose from if you visit this link : www.carpet.com.ph for all available carpet tiles and carpet rolls. For more information call us at (02) 8403-3262, 8893-1373, 0916-311-3909. Email us at inquiry@dswindows.com or visit our mall stores.