Office Carpet Tiles with Uneven Design – Makati Installation
The installation of asymmetrically designed carpet tiles proved to complete the overall formal impression of our Makati client's office. The blue Munich office carpet made the room look more spacious and decent-looking, especially for holding conferences and formal meetings. With the loop pile construction of the carpet's material, it is known to be durable and can withstand foot traffic from its occupants.
For elaborations stated below, the installation for this client proved productive because of the product's loop pile structure which constitutes its durability and its installation method which helped create unique office looks. To have carpet floors that are heavy-duty is one thing and to have stylish ones is another. Today's feature also emphasizes on how the product improved the office's interior even with its uneven designs.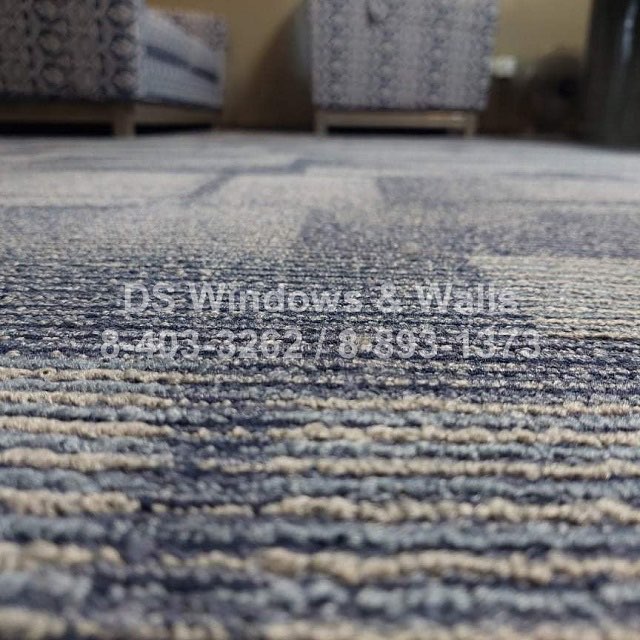 Office floors are obviously prone to foot traffic because of the assemblies held and workspace shared by employees. This puts the need for a resilient office carpet flooring which can accommodate the primary uses of an office room.
The irregular and patterned look of the carpet tiles are not only brought about by the installation method but also by the loop pile structure of the carpet tile itself. The strands in a loop pile carpet are either looped in even and consistent lengths or coiled to create desired patterns or textures. This way, the carpet is more resistant against stains, dust and dirt which makes it more appropriate for rooms that need to be occupied by a number of people, like an office or conference rooms.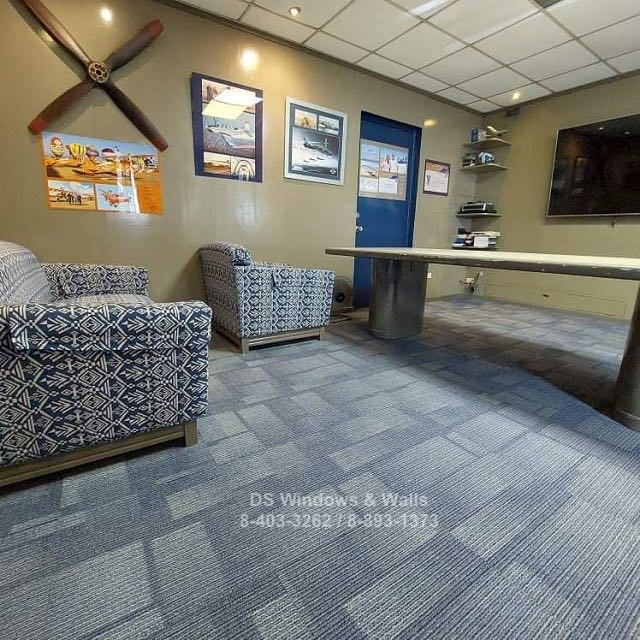 Notably, the blue office carpet gave the room a cooler ambiance and matched with the place's other designs. This means that this carpet style is adaptive and can match a client's preferred interior layouts. Aside from its previously mentioned practical advantages and despite its unequal and repeating look, the carpet design for the office can be seen as convenient, formal and sophisticated.
This durable carpet for offices or meeting rooms can be installed by utilizing either a quarter-turn design or a horizontal ashlar layout. With the quarter-turn installation, more uneven designs or patterns are created for the clients to mix and match with their preferred room style. The other recommended installation of these carpet tiles is the horizontal ashlar style where the tiles are pointing to a common direction but are placed in between one another.
This Munich style carpet tiles are also available in colors brown, grey and black. See available designs at https://www.carpet.com.ph/munich/
For more information about our carpets please call us at (02) 403-3262, (02) 893-1373, (02) 668-9668, or 0916-311-3909. You may also email us at inquiry@dswindows.com or visit us at our sales branches.