Church Altar Red Carpet Roll Installation : Ermita, Manila
Today's feature slightly deviates from our usual home and office installation because this time, we will be venturing into the red carpet roll installation of a church altar in Ermita, Manila. Aside from the carpet's convenience and appropriateness to the church structure, we shall also be discussing its pile composition and measurements. 
The featured product in this article belongs to the Korona Carpet Roll model. Carpet rolls, specifically red ones, are best known and best used to welcome distinguished and honored guests. We may often be reminded of such when talking about red carpet moments of famous celebrities but it is also likely to be used in formal or religious places. This makes it suitable for churches because of the sacred ceremonies that take place in such.
Now diving into the structure of the red carpet roll for churches, its pile material is 100% Olefin. This textile is chemically composed of polypropylene which is an upcycled type of gas propylene and renders olefin to not include land and water in its production. In return, according to the Higg Index, olefin is one of the textile types to be low on carbon footprint. Because of this structure alone, a few things should be noted. First is that olefin is stain and water resistant but since it bonds well with oil, such smears would be difficult to remove. It should also be noted that disinfectants and flameproof sprays or materials should not be used to the said textile.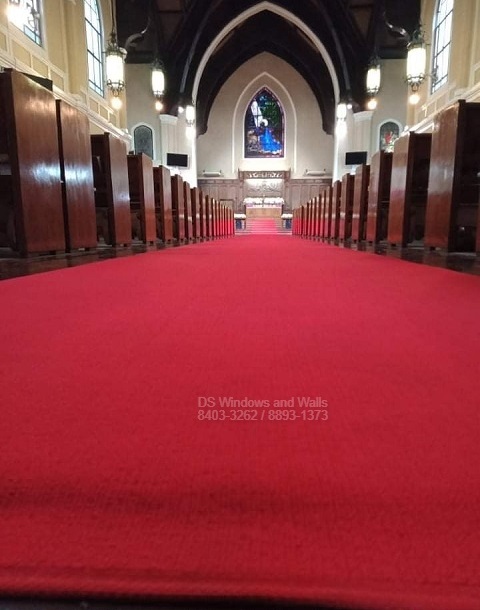 This red carpet for churches is measured at 4 mm pile height, 4 m width and a pile weight of 16 oz. The installation's pile height is considered as low-pile as it is lower than ¼ of an inch. This is ideal for a church carpet, which has a larger foot traffic due to the volume of mass attendees, because such pile height means it has a more rigid weave and is considered more durable and resistant to dirt. Its width is longer compared to standard carpet breadth because it goes on not only in the altar but also in the church floor path leading to the same. The red carpet roll's face weight of 16 ounces is lighter compared to acceptable averages but would still render its use to last for at least seven years.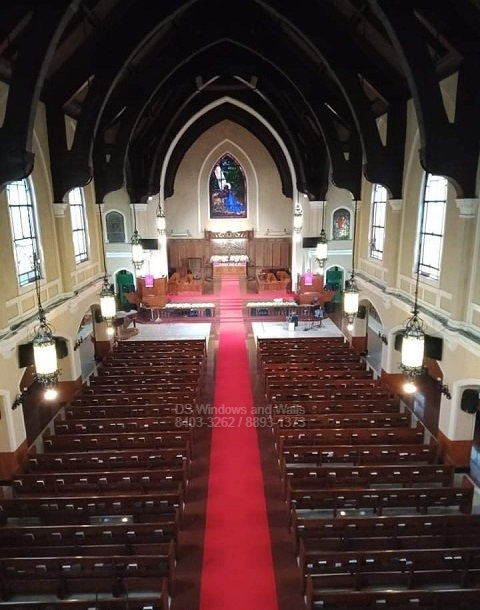 With these given, our installation in Ermita, Manila proves productive and appropriate for its intended uses. It can also be noted that such goes well with the wood flooring and furniture of the church. For future references, this Korona Carpet Roll is also available in the colors blue, navy, gray, black, old rose, bright red, red, beige, chestnut, willow, mint green, brown, moss green and charcoal. 
For more information on our red carpet, call us at (02) 8403-3262, (02) 8893-1373, 0916-311-3909 or email us at inquiry@dswindows.com. Visit our mall stores at Waltermart Makati, Robinsons Metro East, or Pacific Mall.