Carpet Designs for Luxury Shops, Cinemas, and Hotels : Wilton Galaxy
Carpet floorings serve various purposes going from providing convenient and durable carpet to users or contributing to an interior's artistic design. Today, we feature the Wilton Galaxy carpet which completes the sophisticated look for luxury shops, cinemas and hotels. Our installation for this client was worth the effort because our GY 1614 R Wilton Galaxy carpet went well with the luxurious jewelry stalls and displays.
First to be highlighted in this article is the construction of WIlton Galaxy carpets which made them foot traffic-resistant and classy for gathering areas at the same time. The history of Wilton woven carpets goes back centuries ago in Europe. These are made by raising threads or yarns above other threads and are looped in many different ways. Wilton carpets are usually made up of only five colors that make up their patterns whether solid colors or complex designs.
One type of Wilton carpet weavings is called face-to-face. This type forms two cut pile carpets. The next type is the single or plain Wilton carpet which involves adding looped carpet piles to a weaving machine and using a variety of colors for yarns. The last type is called the multi-framed method which is the most durable of all types and creates a sort of protection for the carpet which makes it the best to use.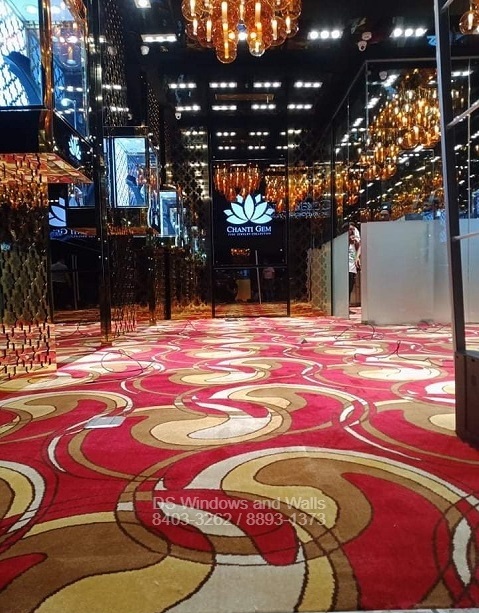 Digging deeper into our product's pile construction, next to be discussed is its pile content and pile height. Its pile content is PP Heat Set or Heat-Set Polypropylene which is a low-maintenance product but at the same time heavy-duty, non-shedding and moth-proof material. This is very appropriate for cinemas, jewelry shops and hotels which all have walkways and corridors.
Wilton carpet's pile height above its backing is 8mm and has a width of 4mm. This is a medium pile carpet that is easy to maintain but provides a softer and warmer feel for users.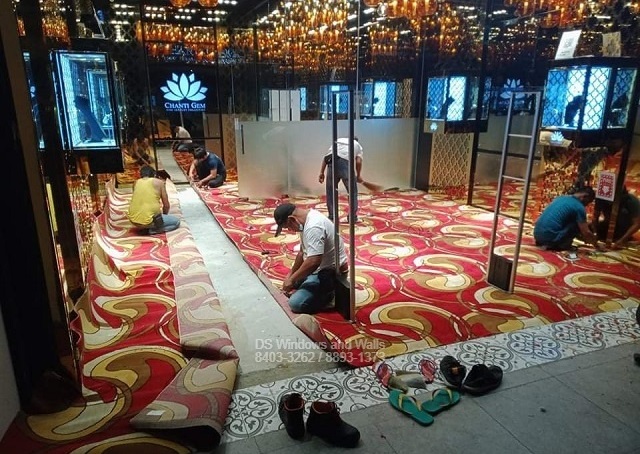 Meanwhile, let us now take a look at our installation workmanship. As seen in the picture, installers are working in sections to ensure that the carpet is properly installed. Cleanliness is also maintained so that the installation and cleaning up will not take too much time for both workers and clients. Also adding up to efficiency in installation is the fact that more are working on the product. Gluing down the carpet in sections allows for the material to be properly supported. It will have minimal movements and this is a good solid base, considering the fact that the luxury shop will be having heavy foot traffic from customers.
Purchasing durable Wilton Galaxy carpets for areas with walkways and halls are productive as this will require less maintenance and can last for a longer time than normal carpets. Plus it adds the chic, sophisticated look for an interior.
Other Wilton Galaxy carpet designs can be seen in this link: https://www.carpet.com.ph/carpet-roll/wilton-galaxy/
For more information on our carpet designs give us a call at (02) 8403-3262, (02) 8893-1373 or 0916-311-3909. Visit our mall stores at Waltermart Makati, Robinsons Metro East Pasig, or Pacific Mall Lucena.