Spiral Design Galaxy Carpet Series with 7mm Pile Height
If you're looking for high-quality spiral design carpet roll or some interesting design patterns usually seen in malls, casinos, or cinemas, check out our Galaxy series or Wilton brand carpet with 7mm pile height.  One of our customer owns a farmland in Laguna province and has a rest house there and he decided to renovate it so that he can have a comfortable place to rest whenever he and his family visit the place.
The rest house has an attic where he plans to make into a bedroom with some entertainment system.  To make the place great looking and comfortable, they opted for a spiral design among the several great looking designs that color coordinated with the mahogany/brown native roof/ceiling material of their rest house.
One important attribute of this design is that it has quite high (7mm) pile height.  The higher the pile height the more comfortable footing it provides.  It is also worth noting that this types of high-quality carpets are more prevalent in prestigious malls, hotels, or casino, but can also be installed in residential homes or offices as you can see in the installed carpet photo.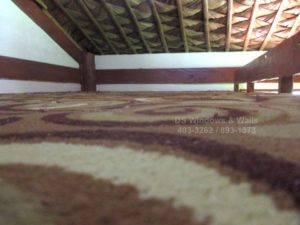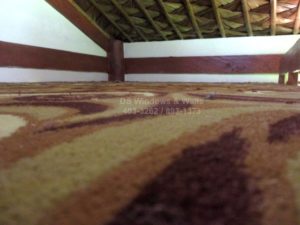 The installation process (when we went to their farmland for the carpet installation) is a bit of a struggle since there are no roads for our delivery van.  We have no choice but to carry the heavy carpet by hand and its accessories and walk for a few blocks before reaching the rest house. Customer satisfaction is one of our top priority so we really find ways to finish and accomplish the task whatever the situation may be.  Our installers are topnotch and very experience in their field of work and have installed to several big hotels, casinos, and call centers so you may expect only quality work.
If you are interested and want to learn more call us at (02) 403-3262, (02) 893-1373 or 0916-311-3909.  You may also visit us at our mall stores in Waltermart, Robinsons, or Pacific Mall.  You may also email us at inquiry@dswindows.com.