Broadloom Carpet For A Modern Classic Bedroom Design: Palm Village Makati City Philippines
Broadloom carpet is the preferred flooring in America and European countries possibly due to the comfort and warmness it brings to the room.  In the Philippines, carpets can be seen usually in hotels, country clubs, and high-end restaurants only.  It's a little bit unusual in residential homes but the reason is not due to the style, comfort and luxury it brings but due mostly to the perceived cost.  Carpeting a room in the Philippines is a bit pricey compared to the usual wood plank or ceramic tiles but not too pricey as one might usually expect.  It really depends on the carpet type and materials. Fortunately DS Windows & Walls provide a wide variety of carpets and provides free measurement and estimate so that you can have an idea of the budget involve.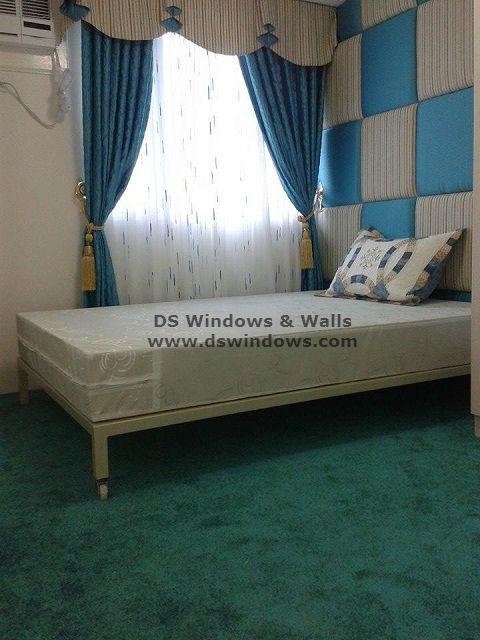 Broadloom Cut-pile Carpet For Modern Classic Bedroom Design – Makati Philippines
Choosing the right carpet for your bedroom can be a little bit difficult though without an experienced vendor that can guide you. It can actually create a huge difference in the appearance of your room and with the large variety of models to pick from its tough to find the best suiting carpet. You can begin with selecting the carpet that suits with your theme like our client in Palm Village, Makati City do to find the best match for her modern classic bedroom.
It's true that when it comes to modern bedroom design the choices are endless just like carpets – the alternatives are limitless. That's why our client favors to use simple and plain carpet with mint color that bring fresh ambiance in the room. The mint color matches the modern theme and the beautiful blue curtain that holds a touch of classic Victorian style that most people like for window design. Using a square cushion headboard is also popular for modern theme that also complement with the carpet color to bring lively and bright surroundings.
For more inquiry please email us at inquiry@dswindows.com or call us at (02) 403-3262, (02) 668-9668, (02)893-1373 and 0916-311-3909. You can also visit our shop located at 4th level Waltermart Makati, 3rd level Robinson Metro East Pasig City and 2nd level Pacific Mall Lucena City.