How To Measure Carpet
DS Windows & Walls offers free on-site measurements if within Metro Manila, Philippines.  You can just give us a call at (02) 403-3262 for details.  However, in case you're outside Metro Manila or want to do your own estimates we offer you a guide on how to measure your room for carpet.
In order to get a basic idea about how much you will need to spend on your carpet you will need to know about how much carpet you're going need.  To do this you will need to use a tape measure.  When measuring your rooms, be sure to measure the absolute widest and longest points of each room, including closet areas and a couple inches through the doorways.  Measure in feet.  This will only be an estimate, not exact amounts.
As an example, consider the 2 bedroom floor plan below and that you want to measure the dimensions for the master's bedroom and the living room.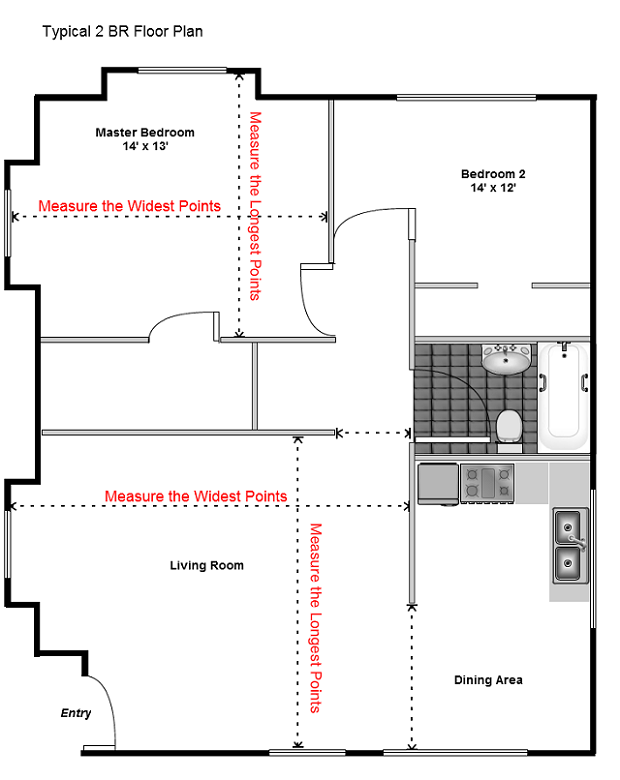 Assuming that for the master bedroom you get a width of 10 feet and 6 inches (or 10′ 6″) and a length of 11 feet and 8 inches (or 11′ 8″). For the living room you get a width of 15′ 5″ and a length of 16′ 6″.
Download our Carpet Measurement (click to download) Form, print and fill-up the form similar below:
Carpet Measurement Form Field Descriptions
| | |
| --- | --- |
| Name of room | the name of the room measured. |
| Room width | the example is in 10 feet 6 inches.  If not in feet, please specify the unit of measure that was used. |
| Room length | the example is in 11 feet 8 inches.  If not in feet, please specify the unit of measure that was used. |
| Comments | any additional comments or instructions that you want to make. |
| Price range | your target price range.  We have a wide range of price from Php 400 per sq.m. to Php 3,000 per sq.m. |
| Carpet Brand | if you know the brand of the carpet you want, please specify. |
| Carpet Type | if you want carpet tile or wall-to-wall roll carpet. |
After filling up the form, you can fax at (02) 893-1373 or email at inquiry@dswindows.com.  Don't forget to leave your contact details so we can contact you for any clarifications or to send you the carpet quotation.
Click here To review again the request for quotation process after getting the carpet measurements.